Beautiful Day
For the past three years, St. Timothy's has partnered with other Silicon Valley churches to support our local schools. Each spring, we take our worship into the community and spend a weekend (including our Sunday service time) landscaping, cleaning classrooms, repainting playgrounds, organizing books, and painting murals in support of teachers, students and their families. Uniting in Christ has been a transformative experience and we look forward to the next event.
Join us in making a difference
This year we're gearing up for Beautiful Day at the Community Services Agency (CSA) in Mountain View and at Santa Maria Urban Ministry (SMUM) in San Jose on April 28th and April 29th.  
CSA and SMUM play very important roles in providing food and other services to the most needy in our community. Serving at CSA and SMUM during Beautiful Day is our way of saying thank you and showing support for their mission! Please take a moment to sign up. There is something for all ages. Here's how you can help!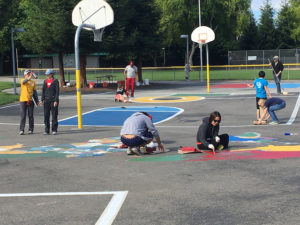 Save the Date – April 28th & April 29th, from 8am to noon
Donate – Our goal is to raise $1,500 to cover the costs of both Beautiful Day projects and the volunteer lunch — from cleaning supplies to baking ingredients, paint supplies to lunch.  If you are able to help, please donate online or at church (note Beautiful Day in the memo line). Thank you!
Sign Up to Volunteer – There is something for all ages and abilities.  At CSA, we'll be deep cleaning the refrigerator and service vans. And at SMUM, we're repainting the parking lots. We're also baking cookies at St. Tim's as a thank you to the staff at both CSA & SMUM. Sign up online at SignUpGenius or contact Annett Trail or Teresa Peters. Time slots are flexible.
Bring Some Cans – Both SMUM and CSA are food banks.  While they are often inundated with donations during the Holidays, they often struggle to get enough donations during other times of the year.  Please help us restock the shelves. Bring your donations of canned goods and other non-perishables to church. We'll be collecting food during April that we will deliver on Beautiful Day.
Give Thanks – All are welcome to lunch at St. Timothy's on Sunday at 1pm for a short service and celebration!  Please contact Annett Trail or Teresa Peters if you would like to help coordinate the lunch.
Thank you for your service and support!