Beautiful Day
For the past two years, St. Timothy's has partnered with other Silicon Valley churches to support our local schools. Each spring, we take our worship into the community and spend a weekend (including our Sunday service time) landscaping, cleaning classrooms, repainting playgrounds, organizing books, and painting murals in support of teachers, students and their families. Uniting in Christ has been a transformative experience and we look forward to the next event.
Join us in making a difference
This year we're gearing up for Beautiful Day at Graham Middle School on May 6th & 7th.  Our project leads are busy organizing the projects:  living garden classroom, outdoor teacher patio, mural project and teacher gifts.  There are lots of ways for all ages to get involved — before, after and during the event — from serving at the hospitality table and cookie baking to building planter boxes and assembling furniture.  Please save the date, invite a neighbor, and donate.  Our goal is to raise $3,500 to cover our costs.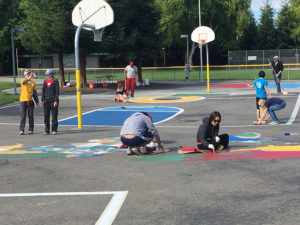 Save the date – May 6th & 7th
Sign up to volunteer – Please sign up for PBC Beautiful Day 2017 activities on SignUp.com today!
Invite a neighbor – Invites available at Sunday Service & in the Office
Donate to the cause – Donate online [click here]
Donations can be made online [Donate here] or by check — please make checks payable to St. Timothy's Episcopal Church and note Beautiful Day in the memo line. Many thanks for generously giving of your time, talent and treasure!